COMPARE
0
The American Express Platinum Credit Card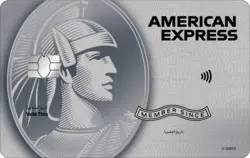 Step into the world of privileges.
How To Earn Membership Rewards Points
Use the slider to see how much you could earn!
Key Information
276.00 USD or 1035.00 SAR (including VAT)
Annual Fee
Monthly Income Eligibility
Murabaha Margin (per month)
Explore all Benefits
Let us do the bookings for you. 
A Platinum Credit Card Servicing Team is available to fulfill your flight and hotel reservation requests.
Keeping you safe even when you're away from home.
Get immediate Travel Accident Insurance with legal and medical assistance coverage to ensure your safety around the globe. You will also benefit from immediate Travel Inconvenience Insurance against delayed flight departures, flight cancellations, denied boarding, missed connections, luggage delays, and luggage loss. To learn more about your insurance click here.
Take a refreshing break at 1300+ Airport Lounges.
Access 1300+ airport lounges regionally and worldwide with our Priority Pass Membership (your upgraded membership is complimentary). This applies to all classes of travel, including Economy, wherever a Priority Pass lounge is located. If you're traveling with guests, you can extend these benefits to them, so they can enjoy complimentary refreshments and access to business facilities available in each lounge.
Enjoy Platinum privileges with our one-on-one services.
Experience Platinum privileges with our professional assistance for a wide range of distinctive one-on-one services.
Choose your billing currency.
You are not limited to one currency. Choose whether your account will be billed in Saudi Riyals or US Dollars and start enjoying your purchases.
Save more every time you spend with Amex offers.
Link Amex offers directly to your Card and start saving more on your purchases.
Fast cash withdrawals from your nearest ATMs.
If you are in Saudi Arabia, visit your nearest Saudi Investment Bank, SABB, or Alinma Bank ATM for cash withdrawal. If you're traveling, just go to any of the 1.2 million ATMs with Express Cash™.
Rewards for everlasting freedom
A Membership Rewards Program has been crafted with you in mind. To simply make sure your every moment is truly Platinum. Every time you use your Platinum Credit Card®, you'll be rewarded with points. Redeem those points to access a world of benefits and rewards. There are no limits to how many points you can earn. And the best part is, your points never expire!
Share your Benefits with your loved ones.
When you share your benefits, you gain MORE benefits! Grant your family members (ages 15 or above) Supplementary Cards  (SAR 450 or USD 120) and receive Membership Rewards points whenever they spend using their Cards. Click here to apply for a Card today.
Enjoy complimentary gift vouchers with your new Card.
You will receive a welcome booklet with your new Platinum Credit Card® including vouchers worth over SAR 1,000 from Saco, Damas, aDawliah, Giordano, Abousafi, and ETRE.
Stay protected against fraud.
Your fraud-proof Card helps you in avoiding any unauthorized charges with Online Fraud Protection Guarantee allowing you to make 100% risk-free purchases. All your purchases are protected for 90 days against theft, loss, or damage with our Retail Protection services.
Instant notifications to keep you updated.
Your Card is protected against any unauthorized or fraudulent attempts. Every time you use it, even with declined attempts, you will receive an instant SMS and email to confirm your purchase or activity.
Keep a check on your account with your fingertips.
Now you can track your account activity with just a single click. Log in to your account and check your credit limit, balance, statements, outstanding bill amount, your next billing date, and transactions over the past 12 months.
Get your replacement Card without delay.
Card stolen or lost? Don't worry! We will send you a Replacement Card as quickly as we can, almost within 5 business days.
Clear your dues at your convenience.
Pay your due amount in whatever way you prefer: ATMs, via phone, or internet, using Direct Debit, SARIE Bank Transfer, or with the quick and convenient SADAD service.
Eligibility & Documentation
*Eligibility Criteria Apply
Documents and information to have ready:
Latest 3 Months Bank Statement
Salary Certificate